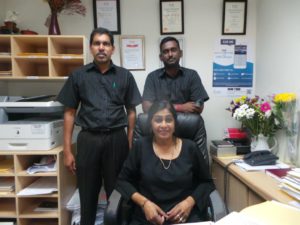 Now we all know we live in a world where customer service is becoming the new marketing tool. To over-deliver in service to a customer is by far the most valuable thing to a business.
Having said that I would like to congratulate one of our New Cars Sales Division, Pranesh Rajaram the Sales Executive, Mala Ajodha our F&I and lastly Ruben Govender our Driver, for delivering excellent customer service to one of our clients. The executed our core values and ethic to a customer as the Ford brand to perfection.
Miss Lindiwe Ntimbane who recently purchased a Ford Fiesta from our Showroom, was out of words and extremely excited about the service she received from the staff above mentioned. She wrote an email to our dealership in which she had this to say:
"I would just like to appreciate all the hard work and effort he put into the deal. I'm not a difficult customer but I'm one of those specific ones.
He went out of his way to ensure that all Finance work is done and kept on updating me as the deal went. He also made effort to make sure I get the colour that I was comfortable in. Having struggled a bit with finding the specific one, I was happy with the Grey that I own. I had never test driven or seen the vehicle, let alone met Pranesh. I had enquired online and the response was speedy. I relied on his expertise and what he sold to me, which is a skill many Sales Executives don't have. I must also add that there were times when I bugged him after hours and he never complained. The first time I saw that vehicle and drove it was when I took delivery. I had already finalised a deal with another dealership and there service they gave me made me move to Ford, its car I have never driven ever in my life, however, Pranesh made the best decision for me.
Having been in the Motor Industry myself as a stock control and Warranty's Clerk for a couple of years, I found nothing to critic about you Sales Executive.
The Delivery was a Cherry on top, the vehicle was ready on time which all the specifications in place. Other sales Executives were friendly and also congratulated me on the purchase, which made a special ambience. I honestly felt like my vehicle was the only one in the showroom, I had all the attention . The delivery and fitting of the plates by Reuben was also efficient and a hassle free exercise.
Thanks to all three of you for the team effort as well as Mala with her great service. I will surely recommend your dealership to friends and family."
A great day to you all.
Lethu,
It's employees like you that keep shining our Ford brand. Congratulation and thank you for the amazing service delivered.