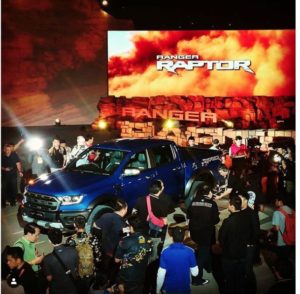 Thailand – Ford has unveiled its first performance-tuned Ranger Raptor at a world debut in Bangkok.
The automaker made its global debut of the first Ranger Raptor bakkie at a world-class event on Wednesday (February 7 2019).
More exciting is the fact that this bakkie will also be built locally at the Silverton factory in Pretoria.
While the Ranger Raptor has been hugely-anticipated, and is most certainly a striking bakkie, South African motorists could be puzzled by the fact that it's is only available with a 2.0-litre bi-turbo diesel.
However, the automaker is convinced the smaller engine is the best option for its new bakkie.
Ford announced in September 2017 that its hugely popular Ranger bakkie will be available in an off-road performance variant for the first time. The purpose-built, desert-racing inspired bakkie joins the Ford Performance family, as the new 'Ranger Raptor '
Ford SA says: "The Ranger Raptor will be coming to South Africa, with further information to be revealed in due course. There is no estimated time of arrival as yet.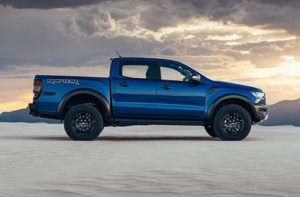 "Designed and engineered to deliver an adrenaline pumping experience, Ford Ranger Raptor sports a head-turning exterior look that exudes toughness as well as a level of capability and off-road performance never before seen in the mid-size bakkie segment.
"Sharing the same nomenclature as the F-150 Raptor, the world's most extreme production bakkie, Ranger Raptor is in a class of its own among mid-size off-road performance vehicles."
So what makes the Ranger Raptor distinctive?
In terms of styling, the Raptor features a new, huge grille, bumper, bold wheel arches and fenders with grey accents. Ford says there are new sheet moulding compound (SMC) front fenders which wrap around the 150mm wider stance from the track. It sports 2.3mm thick high-strength steel for underbody protection. At the rear there's a unique box side, redesigned bumper and tow-bar integration along with a functional aluminium die-cast side step. Inside, there are beautiful sculpted eats, upholstery and signature blue stitches in lightning blue. Ford reckons its cabin has been designed for comfort and confidence with the Ford Performance DNA running throughout its styling. The steering wheel has a red stripe on top of the wheel as a centre marker. It also has unique spokes, debossed graphic and magnesium paddle shifters.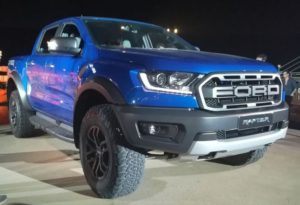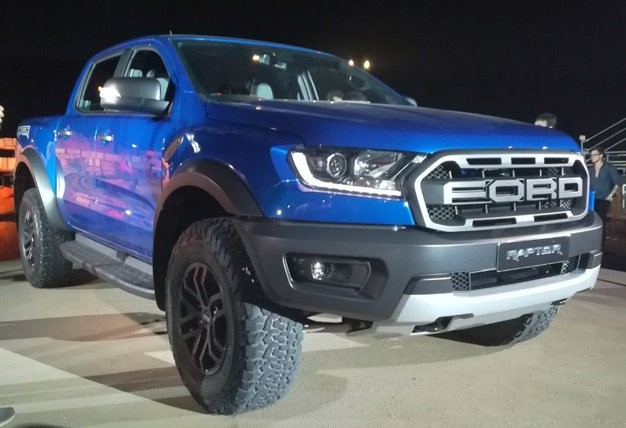 Driving modes
The other aspect of the Raptor's speciality is its Terrain Management System (TMS) which has six various modes to choose from to suite any kind of driving surface, including one called Baja mode. Despite the Baja Dessert Race being highly acclaimed internationally, we reckon this could have been better suited as the Dakar mode for local buyers. But then again, that would be stepping on Toyota's toes with its Hilux.
Ford reckons: "Each mode has been precisely calibrated to offer the best possible combination of technologies working in unison to tackle the chosen driving style with sangfroid."
Each mode can be selected via a dedicated five-button switch located on the steering wheel.
On-road modes

Normal mode: Emphasising comfort, fuel economy and driveability
Sport mode: Responsive for spirited on-road driving. This means fast, crisp gear shifts at higher engine speeds to aid throttle response. The mapping reacts to increased demand inputs from the driver by holding gears longer and downshifting more aggressively.

Off-road modes

Grass/Gravel/Snow mode: Designed to inspire safe and confident driving on off-road slippery and uneven surfaces. This is done through smoother gear shifts and second-gear starts, minimizing the probability of wheel slip.
Mud/Sand mode: Vehicle responsiveness is tuned for optimum traction and momentum in deep, deformable surfaces like loose sand and mud. This is achieved by maintaining lower gears with high torque.
Rock mode: Used specifically for low-speed rocky terrain where smooth controllability is key.
Baja mode: Vehicle responsiveness is tuned for high-speed off-road performance, just like drivers need in the famous Baja Desert Rally. In this mode, vehicle systems like Traction Control are pared back in terms of intervention to allow spirited off-road driving without fighting the vehicle's on-board systems. Gear selection is optimized for maximum performance, and the mapping will hold gears longer and downshift more aggressively.
To Find out more Contact us on 0877248040 or visit 115 Flanders Drive, Mount Edgecombe.
www.umhlangaford.co.za