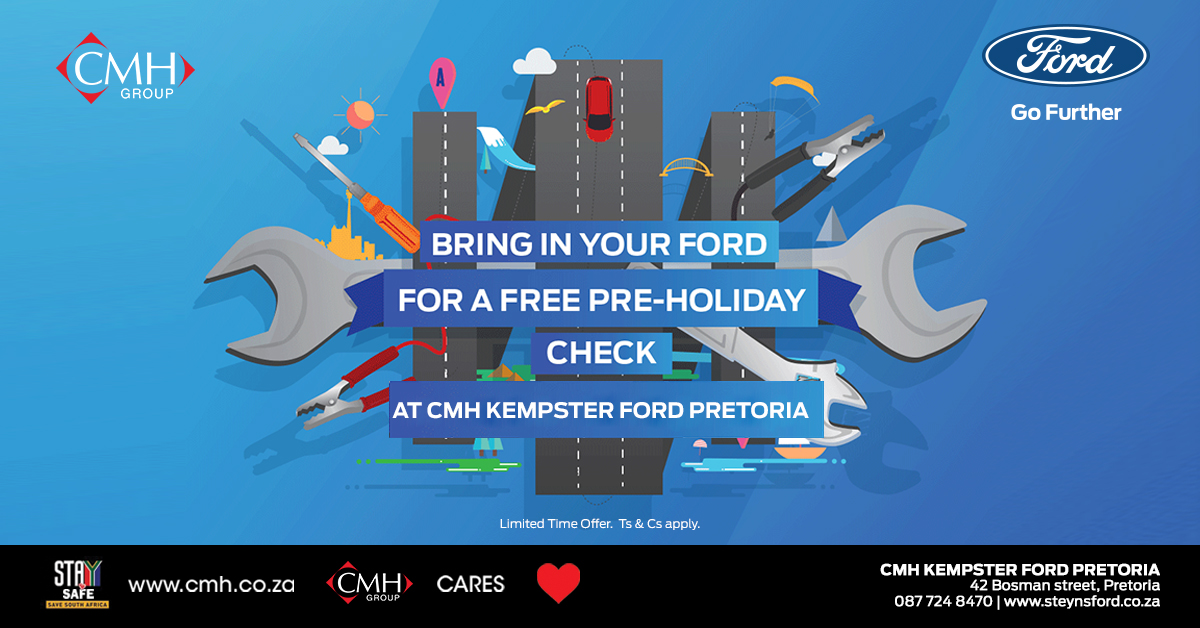 Oh what a year it has been! With the rush to get to our holiday vacation destination. We would like to remind you The Importance Of Vehicle Pre-Holiday Checks to ensure that your vehicle is safe and road worthy.
CMH Kempster Ford Pretoria will take you through some vital pre holiday checks we recommend you should carry out
The Importance Of Vehicle Pre-Holiday Checks:
BRAKES
Breaks are crucial and needs to be inspected, not only when the vehicle is stationary but also when the vehicle is in motion to be able to pick up any vibrations or scraping sounds.
TYRES
Ensure that you have all the tyre-changing equipments in place, The legal tread depth is a minimum of 1.6mm in South Africa. It is crucial to check tyre pressures and adjust for heavy loads. To be road ready it's also a good idea to check your spare wheel's pressure and tread while you're at it.
BATTERY
Make it a point to have your battery checked to see it your vehicle is ready to take on those long trips, it is better to know if you will have to replace the battery than to pay for a tow truck.
LIGHTS
CMH Kempster Ford Pretoria's parts department is stocked with Ford approved genuine parts and with lights being top of your checklist, you are set to get brand new lights from our parts department. Ensure that your vehicle's lighting system is operational and without fault. It's important to double check your headlights and indicators are working properly.
WIPERS
Worn wipers can be extremely dangerous in case there's rain or storms. For a clear and clean vision you have to ensure that your wipers are in good condition and replaced if need be.>

While you plan, pack and get ready for that long trip, you have to ensure that your vehicle is also ready to take on the road for that smooth drive.
Book your vehicle for a FREE Pre-Holiday check at CMH Kempster Ford Pretoria
42 Bosman Street, Pretoria