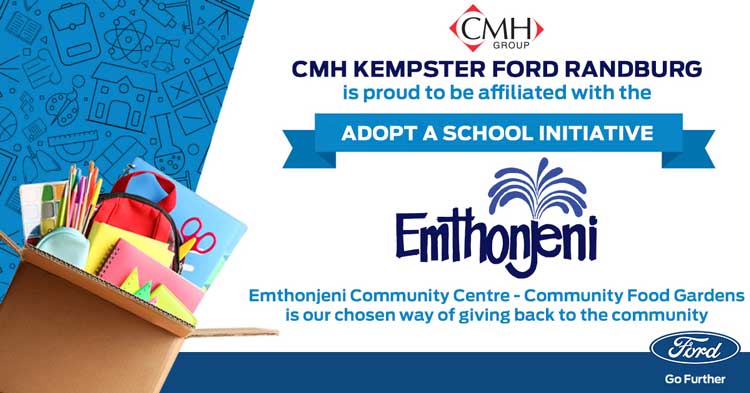 It began with The Community Food Gardens at Emthonjeni as our chosen way of giving back to the community. CMH Kempster Ford Randburg sponsored the upgraded fencing around the Vegetable Gardens for a safe and secure future for this entrepreneurial endeavour for the community.
The objective of these gardens is to improve the nutritional status of vulnerable people, supply vegetables to 3 nutritional kitchens, provide food for self-consumption and generate income for these individuals. At Emthonjeni we have set aside land for sustainable vegetable gardens. Senior citizens from Zandspruit Informal Settlement are given the necessary training, seeds and tools to successfully plant their gardens. We consider this vegetable garden to be an extremely beneficial initiative as it addresses the very real and practical nutritional needs of the aged.
In August 2019 we started the Adopt a School: Clothing and Blanket Drive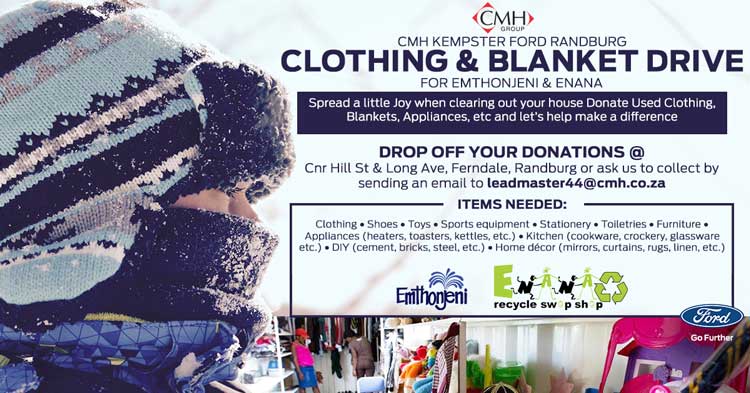 Donate Used Clothing, Blankets, Appliances, etc. and let's help make a difference.
Items Needed:
• Clothing
• Shoes
• Appliances (heaters, toasters, kettles, etc.)
• Kitchen (cookware, crockery, glassware etc.)
• DIY (cement, bricks, steel, etc.)
• Home décor (mirrors, curtains, rugs, linen, etc.)
• Toys
• Sports equipment
• Stationery
• Toiletries
• Furniture
In September 2019 we started the Adopt a School: Non Perishable Food Drive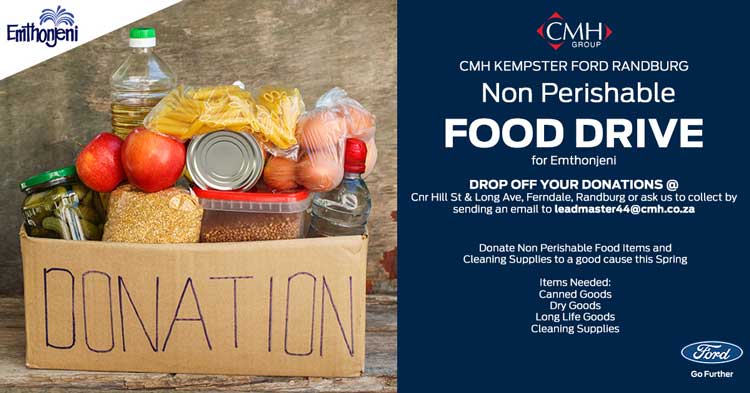 Donate Non-Perishable Food Items and Cleaning Supplies to a good cause this Spring.
Items Needed:
• Canned Goods
• Dry Goods
• Long Life Goods
• Cleaning Supplies
These two Drives or Acts of Kindness are not to make ourselves look good or to be the hero's in anyone's story. These have been started and put in place to get the community involved, to help the wonderful people who run this amazing centre where we can. These two drives will be continuous and on-going initiatives at CMH Kempster Ford Randburg for the remainder of this year and well on into next year. We are committed to helping as much as possible and we are always appreciative of the help and support, you our loyal customers give us.
For More Information: www.emthonjeni.co.za
Call: 087 724 8840
www.randford.co.za
www.facebook.com/cmhkempsterfordrandburg/
Source: www.emthonjeni.co.za